Okay, L from
Viva Carlos
is absoloutly amazing and magical and she deserves a thousand Corgi's. I had been searching for Red's pedigree under Cash's Steppin' Up, because that's what I was told his name was. WELL his name is actually Cash's STEPPING Up. Duh. Anyways, L managed to find me his pedigree today because, as I said, she is amazing.
I've been literally drooling over his bloodlines ever since I saw the comment. I have yet to find a ton of info on his dam, Jk Annelie, and his sire, Big Step Son, but I did find some awesome info on his grandfather, Big Step. I'm not huge into bloodlines because I never had a reason but
wowza,
I'm lovin' his grandpa! Here's the
link to his pedigree.
In case you don't know anything about the apparently popular sire....
AQHA# 69450
63% NFQHA
Unplaced in 2 starts at Burwell Racetrack
Leading Sire
SIRE OF:
3 World Champions
7 Reserve World Champions
13 Superior Halter Winners
54 Superior Performance Winners
28 AQHA Champions
NRHA Money Earners
50 Yrs after his birth, as of May 2006,
Big Step
was listed as #16 on AQHA All Time Leading Sire of Western Pleasure Point Earners (Youth Division) & #22 All Time Leading Sire of Hunter Under Saddle Point Earners (Youth Division)
Breeder: Blain Lewis, Patagonia, AZ
Owner: Melvin G. Astleford, Minneapolis, MN
So yeah, I'm pretty sure that I'm in love with this guy and I love that he did stuff in the Youth Division because Red has totally taken after that and loved showing in that division in WP. I can definitely see his granddaddy in him, now if only I could find more info on his sire!
Ooh-La-La!
As for Jk Annelie, I emailed Jk Performance Horses to get more info, but while I wait, I looked deeper in her pedigree and saw that she is related to Easy Jet, another amazing Sorrel Quarter Horse!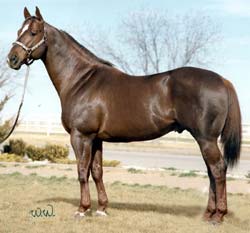 Excuse the quality! From Online Pedigree.
And according to the interwebz, he is also a legend in the AQHA world.
Racing ROM
Racing Record / 38-27-7-2
Race Earnings / $445,721.00
1969 World Champion Quarter Running Horse
1969 & 1970 Champion Quarter Running Stallion
1969 Champion Quarter Running 2 Year Old Colt
1970 Champion Quarter Running 3 Year Old Colt
Superior Race Horse
Major Wins: 1969 All American Futurity; All American Quarter Horse Congress Futurity; Kansas Futurity; Laddie Stakes; Rocky Mountain Quarter Horse Derby
Perhaps no other racing American Quarter Horse has had a greater or more controversial racing career than Easy Jet. During his 2-year-old campaign, he was loaded into the gates 26 times, a feat that some think would have crippled most juveniles. Despite the criticism, he won 22 races that year, including the All American, Kansas, Sunland Fall, Columbus Triple Crown and the All-American Quarter Horse Congress Futurities. He was named World Champion Quarter Running Horse, Champion Stallion and Champion 2-Year-Old Colt. He hit the track again as a 3-year-old and was just as successful, attaining the titles of World Champion Racing American Quarter Horse and Champion Quarter Running 3-Year-Old Colt. He retired with 38 career starts that included 27 firsts, seven seconds and two thirds. As a sire, Easy Jet was equally impressive. By the end of 1993, his direct offspring had earned more than $25 million on the track. Additionally, he had sired more than 1,500 horses who had gained their Registers of Merit.
Information from American Quarter Horse Association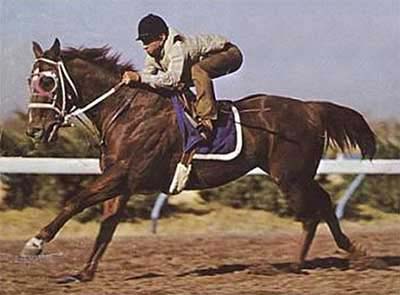 From Online Pedigree
AQHA # 0573195
Sorrel Stallion
15.2 Hands
1967 ~ 1992
I also find it cool that Red and Easy Jet have similar facial markings, star and a snip. :)
Also, here's the link that L posted,
Red's profile.
I looked up more on Jets Investment but I couldn't find any pictures that were definitely him...I did find lots and lots and lots of Bay's that are related.
Um, yum. Found on Google, no link back to original site. :(
Even yummier. Also found on Google with no link back.
I'll post something once I find more info on the sire and dam, but for now....I'm very happy with the bloodlines I'm seeing. ;)
Thanks again, L!