Following the advice of several fellow bloggers, I went to SmartPak to look for some pads. The saddle will come with a pad, but it looks sorta grungy, that is if it's the little one pictured.
Obviously looks stained, which may come out if I wash it, which I will before using it, but I'd still like something nicer. So I found
this
and
this
pad. If I got the first one, I'd get it in white with burgundy trim-
With the monogramming with my initials. I like style number 1-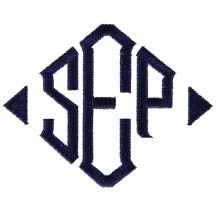 Style 1
So it would be KAC in burgundy text.
I also like the second one in burgundy. For some reason it won't let me copy & paste the photo on here so just go to the link above. I think I'd do the same monogramming, but in white. But that one is more expensive so I'm thinking the white will be the winner if I go with SmartPak.
Meeting the lady at 4:30 tomorrow. I was hoping to meet her today before the farrier so I could try it on Red tonight but she wasn't available today soo......hoping it fits well!