E-Eeyore.
My Red has many nicknames. Rhett, Red-man, Red-head(His most popular one), Slowpoke, Turkey, Donkey, Mule, Cashy....But his oldest nickname, that I gave him, anyways, is Eeyore.
Why Eeyore, you ask? Because Red constantly has the above face on when he sees a saddle, and for the first few minutes of riding-before he gets into it-he looks like this: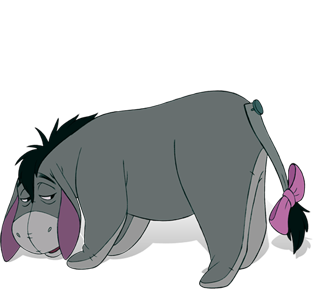 If Red had a voice, I'd imagine he'd sound like Eeyore.

Another reason for the nickname is because of Red's mane when we first got him. It looked like a mohawk, just like Eeyore's. Red also had half of a tail, like Eeyore. All in all, I think if Eeyore was real, he and Red would get along just fine.
Oh, and it's also day 3 of the 30 day challenge! Today I'm supposed to post a picture of "my best riding". So here we go.
Not a great picture, but that day, I finally got over my fear of his awful trot, I kept my heels down the whole time, and my reining was great. :) My posture was almost always good, and I just had tons of fun trotting around the pasture with my Eeyore!!
:)
Question: Do you have nicknames for your horses?