Yesterday, I spent the whole day at the barn. It was fan-stinking-tastic. And freezing. Got there, fetched the ponies with A, put them all up and starting tacking them up to go after Red got a very thorough grooming session. Pretty sure he nose-dived into mud. Once I was about halfway done, Red perked his ears outside and he never, ever, ever has his ears up unless someone whistles at him or something's goin' on. Sure enough, four seconds later, I hear a little whinny. I looked outside and Patches, who A was tacking up, got pretty much tackled by Dusty, the new horse. Totally unexpected. They have had literally zero issues. It was an ordeal. Both are fine but the fencing got hurt, lol. It's hard because A and I obviously don't own Dusty, we can't do much other than make sure
our
horses are safe from him. Rawr.
Once that was done and we got everyone settled down, we finished up, hopped on and went to the fruit & berry patch. I went with western today since I needed to fix up a few things on the English saddle and bridle, plus I knew we'd be riding for awhile and it's definitely more comfortable and better for the trails.
I've always said that horses get just as bored as we do, especially when we always take them through the same trails, over the same jumps or do the same moves, cues and groundwork. So, A and I decided to take them through a different part. They did absoloutly wonderful. It was just A and I this time, so we were less rushed. When mom comes, she's obviously needed at home because of the kids so I'm rushed, but this time I wasn't rushed and it was peaceful-definitely missed mom and Spirit though!!!
We went through the "pretty" trails, as we call them. It's a lot colder in these, the trees are gorgeous. Apparently, it was supposed to be a Christmas tree farm but it never took off!! Really nice, soft ground and pretty trees.
Once we got out of there, we found a little opening without fencing, leading to the subdivision next to the fruit & berry patch, that J, the owner of the farm, used to own. Really nice and quiet over there. We crossed over and an older couple was walking their dog. They seemed pretty shocked that horses were in the neighborhood! ;) The dog never barked but was definitely curious to what those big fluffy animals were.
Everyone was looking as us so funny, a few people came out of their houses and took photos. Everyone was like, "where did these things come from??" thankfully the horses didn't poop. ;)
We stayed in there for a few minutes and went to the roadside, there's a big "trail" next to the road so we rode along it to get back to the fruit & berry patch. The horses did amazing. Motorcycles went by, loud trucks, they were chill. Red is used to it but Patch isn't and she was an angel!! Red missed his hack. ;)
At that moment, we decided something. There's a Christmas parade every December here in my town, Equestrians are free to come and join, no registration fee, really simple and downhome kind of parade. So far, we've gotten AM, A and myself, obviously, in on it. C is a possibility if he gets home from Florida in time, plus a friend of mine may be in. Mom is in, if Spirit will do it. Going to test him first, though!!! (Siren noises, music and lots of lunging! Plus work around cars.) I am so excited!! December 6th!! If any of y'all are in TN, shoot me an email and I'll let you know the details.
Once we were done there, we let the horses canter in the field and then went back home. We rode for at least 2 hours, really nice ride! The horses barely broke a sweat. It was a really low-key ride. Mostly walked and trotted, it was so cool outside and they were loving it.
We got everyone untacked and fed, loved on Redman and worked on bowing. He was a bit stiff but he's fine tonight. I think it was from walking on the concrete. He's got the bowing down, now. Kissing trick needs a bit of work but doing good, hugging is down. Next step is going down to the ground a bit more so I can mount bareback.
After everyone was fed and were in stalls, we threw hay out. Checked everyone over, kept Red in for awhile longer than the rest so I could cuddle. ;) He is such a lovebug with me. I sat on the floor and he immediately put his head on my lap and went to sleep. He follows me everywhere, listens well and is really focused on me now. I laid on him tackless for a few minutes and just spent a good 45 minutes hanging out in the stall with him.
Now, for fun Christmas stuff!! I'm going to ride western in the parade. More warmth for both of us plus it'll be a long ride so comfort is key. Here are a few ideas and items I may purchase for it!!
Hoof painting!!!
Cute !!!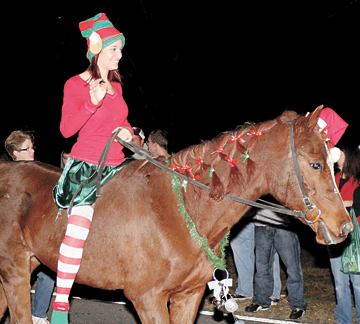 Mane...gotta be braided!!
SO STNKIN CUTE. I could so make the little breastcollar and reins.
I love the forelock.
Now, here are the items I have planned....I'll be making a ton of the stuff, though.
Little hat! (Chicks Saddlery)
Reindeer antlers! (Chicks saddlery)
From Chicks...a sheet...if I decided to ride English. (Although it could probably work for Western with some tweaking.
Anyone have ideas?? :D